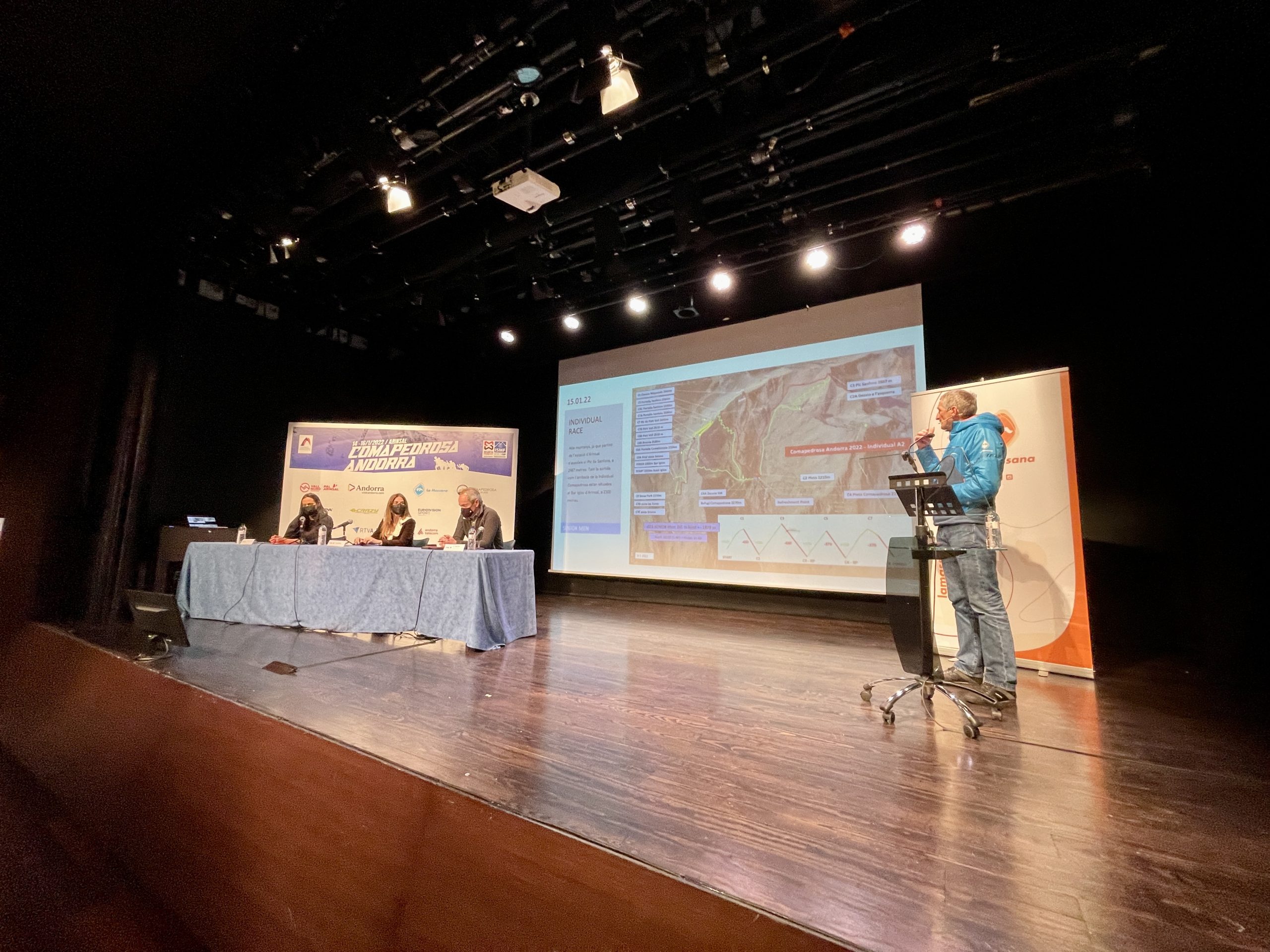 Comapedrosa Andorra Mountain Skiing World Cup kicks off in Arinsal
From 14th to 16th of January, Andorra will host another edition of Comapedrosa Andorra Mountain Skiing World Cup. This world event, which will start on January 14th has been officially unveiled today. It will host two races: Individual Race on January 15th and Vertical Race on the 16th. And this year again, COVID-19 security measures will be strict.
The organization of Comapedrosa Andorra 2022 has declared the Mountain Skiing World Cup inaugurated this Monday, January 10th, during the official event presentation. The said inauguration took place in the presence of the Molt Ilustre Mrs Sílvia Riva, Minister of Culture and Sports, the Honorable Mrs Olga Molné, Cònsol Major of la Massana, Mr Josep Lluch, vice-president of Federació Andorrana de Muntanyisme, Mr Josep Marticella, Director General of Vallnord – Pal Arinsal and Mr Carlo Ferrari, the World Championships director. All details of this new edition of the World Cup have been released. Opening ceremony will take place on Friday 14th of January in Arinsal village. About 120 registred competitors, from a dozen countries are expected to participate in the race. An overall budget of € 120,000 has been allocated for the whole event. In terms of weather conditions, optimal forecast is expected on race days, i.e. sun and lower temperatures. Such a situation will allow ideal course preparation and maintenance.
During the presentation, the Honorable Cònsol Major de la Massana, Olga Molné, has pointed out "the positive impact of the event on our territory and above all, for La Massana parish and especially for Arinsal". Comapedrosa Andorra is in its 3rd edition but this is the 11th time that the Mountain Skiing World Cup takes place in the country, making it a permanent and consolidated venue. Cònsol Molné also wanted to insist on the fact that this is the second time the whole team has worked hard to organize such an important event in spite of a complicated sanitary situation. The main goal is zero contagion with strict and well-defined protocols, especially for those involved in the race, but also for spectators, who will be allowed to access this year. Competitors as well as staff, volunteers and other external agents will be able to access by carrying out COVID-19 tests, which will ensure the safety of the event, and the use of the FFP2 mask and helmet. Such events place Andorra as a country promoting sport in general, as commented by the Minister of Culture and Sports, Sílvia Riva. She has highlighted the need to continue working to promote this type of events in order to boost the country's tourism and to allow Andorra to be associated as a country of Health and Sport.
As usual, this event has sustainable and solidary aspects. As indicated by the vice-president of the Federació Andorrana de Muntanyisme, Josep Lluch, the federation has been working on sustainability for many years. At least 4 major areas are being worked on this year. One of them is possible thanks to the collaboration with FEDA with the supply of electric cars during the event or Pla del LOC and volunteers committed to collecting leftover that may be left during the race. The other aspect is CO2 compensation, which aims to make the carbon footprint neutral. Finally, the station has worked on an environmental dossier assessing the impact that World Cup may have on the Comapedrosa Natural Park. Beside that, vice-president Lluch took the opportunity to confirm the presence of the national team participating in the World Cup. In senior category, David Albós, Gerber Martin, Sergi Casabella, David Pérez. In espoir category, Adrià Bartumeu, Laia Sebastià, Marcel Prat and Andrea Sinfreu. Finally in U20 category, Oriol Olm.
Likewise, solidarity is one of the most important aspects for Vallnord – Pal Arinsal said general director of Vallnord – Pal Arinsal, Josep Marticella. This year, thanks to a collaboration with Carisma, a massive collection of winter clothes will be organized. It will take place on Friday at La Massana cable car building from 5.30 pm to 9 pm and, on Saturday and Sunday at Comallemple from 9 am to 4 pm. As for race access, opening hours of El Orriols chairlifts and cable car will be extended. The organizing team and collaborators as well as competitors will be able to access from 7am while public from 8.30am, where special ski pass packages have been created at cheaper rates for those who wish.
Comapedrosa Andorra will host two races: Individual Race, on January 15th and Individual Race on January 16th. Individual Race will reach the Pic de Sanfons, which will offer an idyllic stage, has informed Carlo Ferrari, FAM technical director. This is a high mountain race, which will start from Arinsal resort and will reach Pic Sanfons, 2887 meters high. Both the start and finish of the Individual Comapedrosa are located in the Xalet Igloo d'Arinsal, 2300 meters. As for Vertical Race, the venue remains entirely on the Marrades ski slope, which allows athletes to go full gas without any interference during the progression. This makes it a unique and very attractive race for mountain skiers. In addition, this race will be streamed on Eurovision Sport and Radio i Televisió d'Andorra, as well as web channels and social networks.